BPP University Law School - Leeds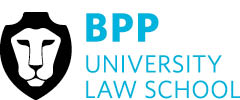 With over 25 years' experience in delivering professional legal qualifications, we have proudly earned
our place as one of the largest law schools in the UK. Whatever your level of study or whatever your career aspirations, we will develop you into a commercially-focused and highly employable solicitor, barrister or legal professional.
Our Leeds Centre
BPP's study centre, Leeds Whitehall Quay, is located in the heart of this vibrant city, just a five minute walk from the train station and main shopping areas and its buzzing social scene. Our state-of-the-art building features mock courtrooms, high level technological facilities and comfortable common rooms – everything you need to succeed in your studies.
Our Leeds learning centre provides you with the resources you will need in a professional working environment. You will benefit from friendly and expert tutors and a team of dedicated support staff.
Facilities
Students at BPP University Law School Leeds will benefit from:
155 seat lecture theatre
Mock courtrooms for realistic role-play for law students
10 classrooms with the latest audio-visual technology
University Library with 206 seats and quiet and silent study spaces
94 computers available
Free Wi-Fi and internet access
Student lounge and TV area
Student lounge and breakout area
On-site café
Café and Snack vending machines
Several cafes, shops and restaurants are within walking distance, including Subway, Starbucks, Pizza Express
Programmes
BPP University Law School Leeds runs the following programmes:
LLM Legal Practice (Solicitors)
Bar Professional Training Course (BPTC)
LLM Legal Practice (Barristers)
Visit Us
Join us at our Leeds open evenings and find out what it's like to study at BPP University Law School.
With a mixture of presentations, informal discussions and interactive sessions, you can learn more about your programme of interest and discuss your career pathway with practicing legal professionals.
Contact
BPP University Law School - Leeds
Tel: 0333 122 3590
Whitehall 2
Whitehall Quay
Leeds
LS1 4HR