Lancashire Law School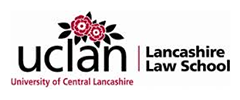 Lancashire Law School is well-established in the North West, having been offering Law Degrees for over 40 years. It is an exciting and vibrant place to study offering students innovative courses and many varied extra-curricular opportunities.
We have embedded transferable skills and employability across our curriculum ensuring that students not only get a grounding in academic law but also have the opportunity to take part in real world experiences. We offer all our students opportunities to engage in a variety of pro bono activities in the University, at the local Courts and across the City. We have legal clinics that cover Mediation as well as general legal advice both of which are open to the public. We offer experience with the Personal Support Unit based at Preston Combined Court Centre as well as linking with the local Citizens Advice Bureau to offer free legal advice within the City centre.
Our students are encouraged and supported to take part in internal and external competitions. Our students have had many notable successes both nationally and internationally with our students winning the award for the best team and the best individual mediator in the National Mediation competition, and winning the regional heat of the National Negotiation Competition.
There are great opportunities for International travel. Students can study our law degrees at our campus in Cyprus, or in Mauritius. The Law School also offers study trips across Europe to places including The Hague, Auschwitz, Brussels and Luxembourg, as well as the opportunity to enhance employability skills with our week-long leadership course in Cyprus. There have been opportunities to travel on exchange trips to Mauritius and this year we are expecting to send law students to China on an exchange visit.
In addition, a number of our modules, both at Undergraduate and Postgraduate level, will give our students qualifications additional to their degrees. Students can become accredited Mediators and gain Associate membership of the Chartered Institute of Arbitrators significantly enhancing their employability prospects.
Uclan has excellent library facilities and the Law School has a dedicated librarian. The library is open 24 hours a day, 7 days a week during term time and, in addition, e-resources can be accessed remotely any time of the day or night.
At Lancashire Law School we often welcome guest lectures from across a range of professions to talk to students as we are mindful that not all our graduates will want to enter the legal profession. We aim to expose our students to a variety of professions and opportunities that will be relevant to them, from High Court Judges to a hostage negotiator, all of whom enhance our student's experience and networking opportunities.
Lancashire Law School has been Highly Commended for "Legal Educator of the Year 2017" by the Solicitors Journal Awards 2017.
Contact
Lancashire Law School
Tel: 01772 201201
Email: HarrisHub//uclan/ac/uk
Harris Building
Corporation street
Preston
PR1 2HE